"

I tried imagining what life would be like not to be a songwriter but that's just who I am."
BIo
Layla Frankel doesn't fit in a box. 
When she moved to Nashville in 2017, fresh off a cross-country tour in support of her debut EP, Tame The Fox, she tried.  But she realized she was too bluesy for the country artists, too poppy for folk, and she had more soul on stage than most Nashville audiences had seen before. 
Since then, Layla's music has developed into a form all of its own, with a genre that might be best described as "Soulcana." It integrates the vocal style of Bonnie Raitt and the sophisticated pop sound of Sheryl Crow. It pays homage to the cryptic, poetic lyricism of Joni Mitchell and Bob Dylan. Most notably, it plays with melodies, unexpected chord structures, and showcases her stunning vocal power and agility - all of which can be found in spades when listening to her latest EP, Postcard From The Moon.  
Produced by Grammy-honored guitarist, Jim Kimball, and recorded at the iconic StartStruck Studio in Nashville, Postcard from the Moon features 6 original tracks that showcase Layla's timeless, soulful vocals, and skillful craft. Layla's R&B single, "You Can't Love Me Like I Loved You," was a finalist in both the 2020 John Lennon Songwriting Contest, and The Great American Song Contest, and "Josephine" was a semi-finalist in the Music City Song Star songwriting contest. 
In a world of boxes and labels, Layla's record aims to redefine the lines that have been so carefully etched in our cultural musical lexicon. The new album is her answer to the fear, frustration, and perseverance she has experienced as a musician looking for her place in the world and finding her voice in the process.
Press
Praise for Postcard from the Moon
EP by Layla Frankel 2020
"Classic timeless singing from Layla and great songwriting from her and her musical partner Alex DeVor… This one sure hits the sweet spot in my soul!" - Music City Mike 
"A really good example of this Nashville based singer songwriter's style and the depth of her songwriting. The sounds range from blues and soul to acoustic folk and jazz…so pure and filled with emotion" - Ana Lee, WMOT Nashville
"With a musical style that pays homage to the spirit of the late, great Etta James… Layla Frankel is a Nashville artist on the rise! " -  Music City Music Magazine
"Emotionally impacting…dynamic, and mesmerizing" - Buzz Music
"Spellbinding vocals, country folk musings and candlelight sentiments. Romanticana all over the place. The moon moved to Nashville and Frankel sent us a sonic postcard from there with 5 gripping songs." - Turn Up The Volume Blog
"Layla Frankel has found a way to [transform] her soulful, jazzy delivery into Americana and folk on her new EP Postcard from the Moon…She has grown as a lyricist and uses her voice with confidence as the lead instrument." - Hans Werksman, Here Comes the Flood
"A gorgeous display of songcraft.…"Josephine" is every bit Carole King as it is Nick Drake…The intimacy of "Without Suffering" is a sobering realization that there is a new dawn awaiting and her drive for a good soul song shines forth, an exclamation point to this EP and a delight when it comes to production value.  Postcards From The Moon is natural in feeling and every bit authentic in its emotional drive to be a modest, if not solid, collection of songs." - Andrew Duncan, Selective Memory Mag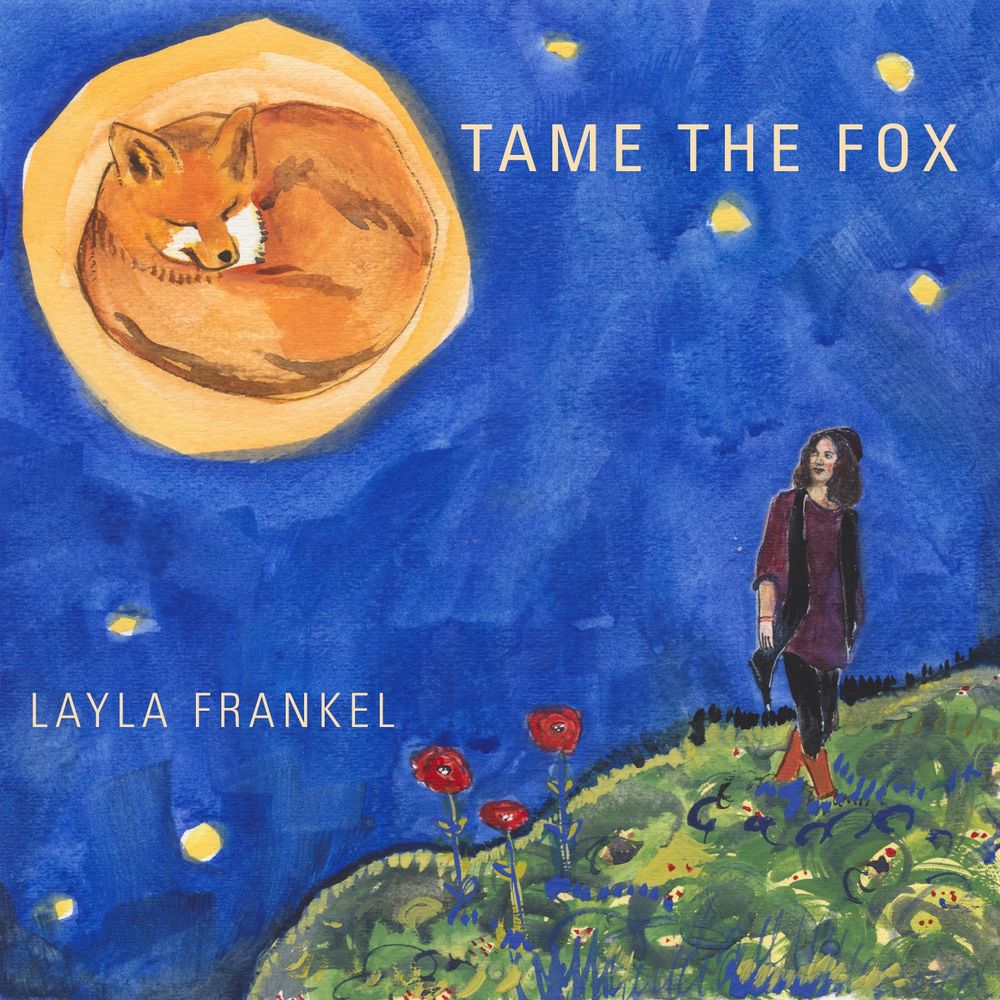 Praise for "Tame the Fox"
Debut EP by layla frankel
"A fabulous and quite unique collection of songs, where melodic and high quality music is delivered with such beauty." - Beehive Candy
"Frankel's voice is strong right out of the gate... it's blue-eyed soul w/ jazzy guitar lines recalling Dusty Springfield circa Dusty in Memphis." - Radio One Chicago
"...spirited folk-rock with tight harmonies, catchy songs, understated instrumentals and loads of Frankel's wonderfully expressive voice. With leanings from blues to jazz, this EP is a singular showcase of the artist's writing and vocal chops, with all else placed to enhance appearance like a chef plates an entree. Evocative, intimate and thoroughly enjoyable..." - Floorshime Zipper Boots
"Blurring and overlapping genre lines with forays into acoustic folk, jazz, R&B, blues and soul...The EP is in some ways a musical extravaganza." - Max Hammer - Indie Rock Cafe